Our Services
"The Funeral Home with a Big Heart"
Help is only a phone call away
---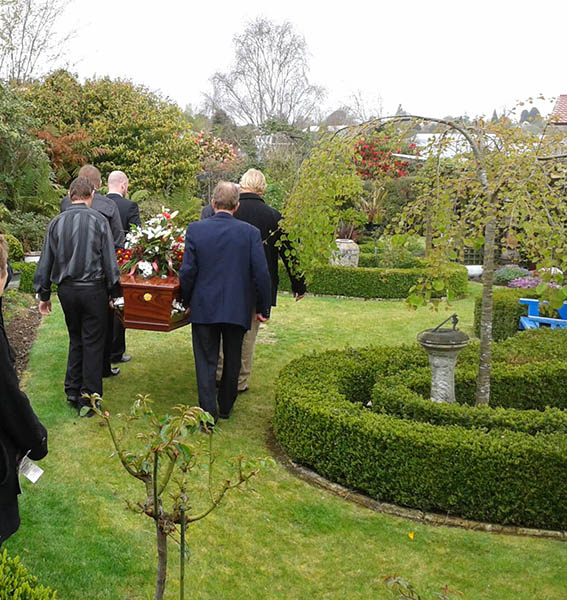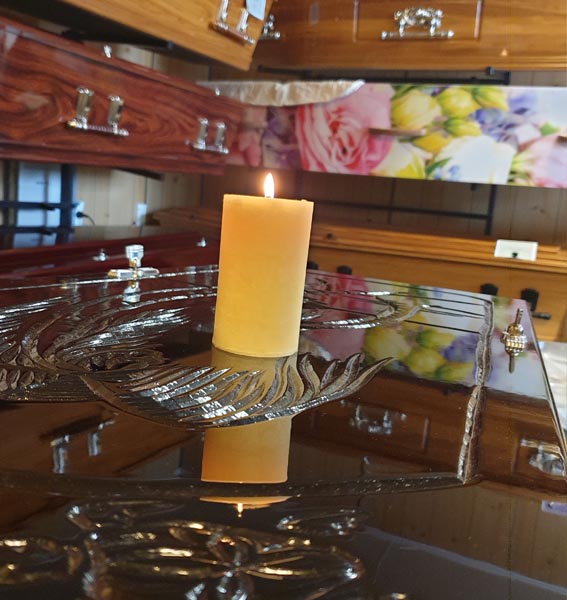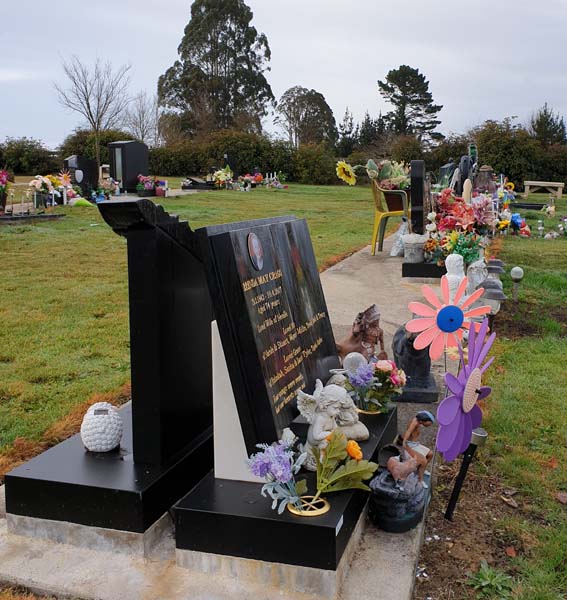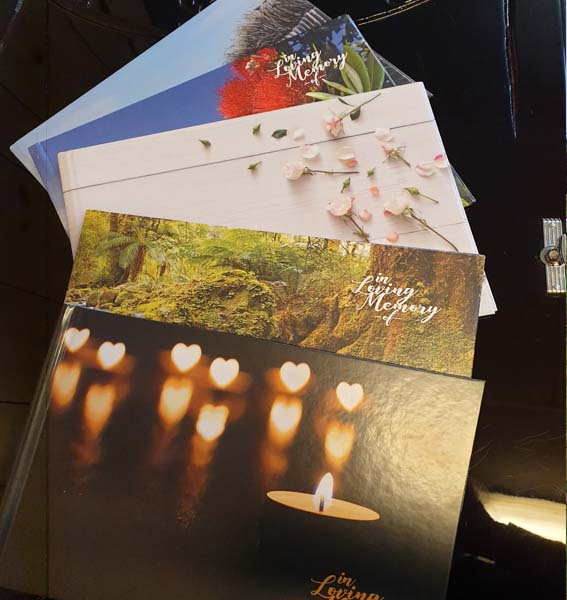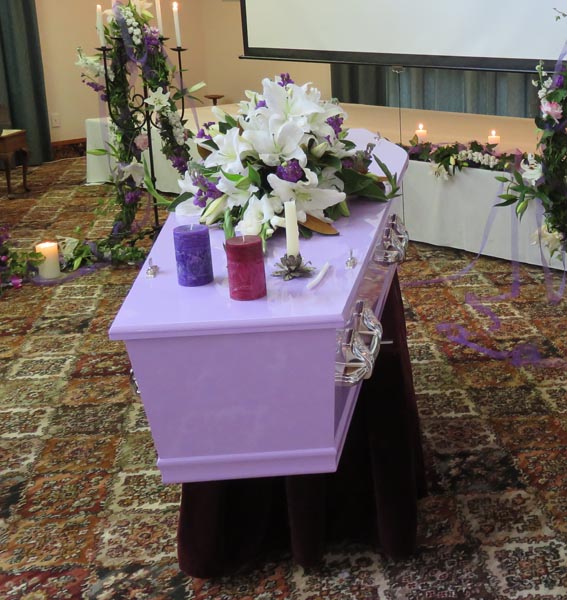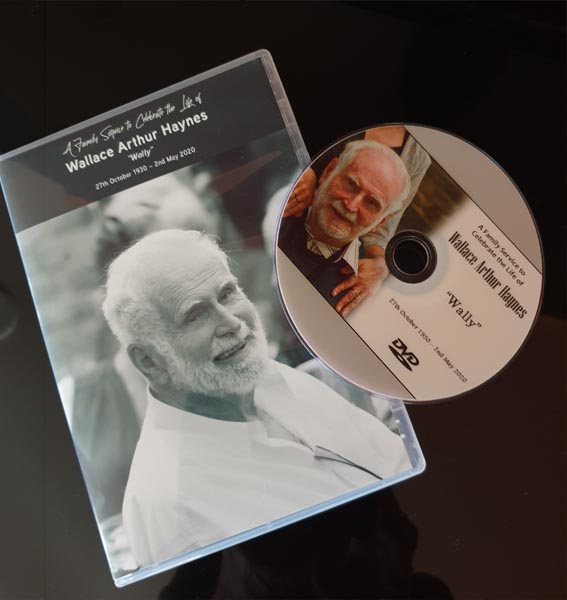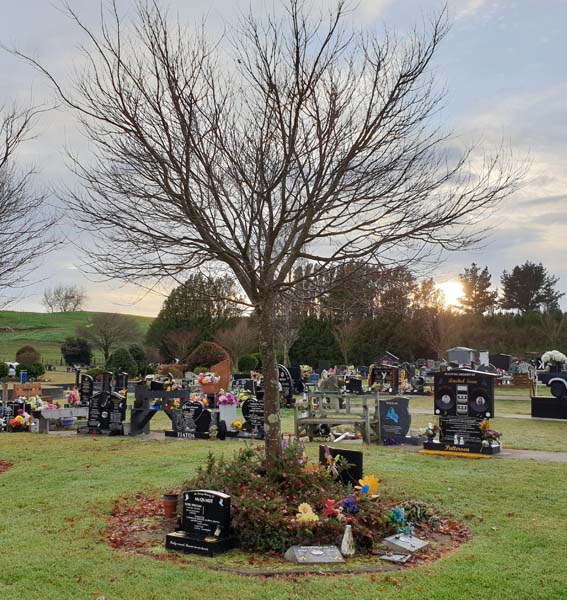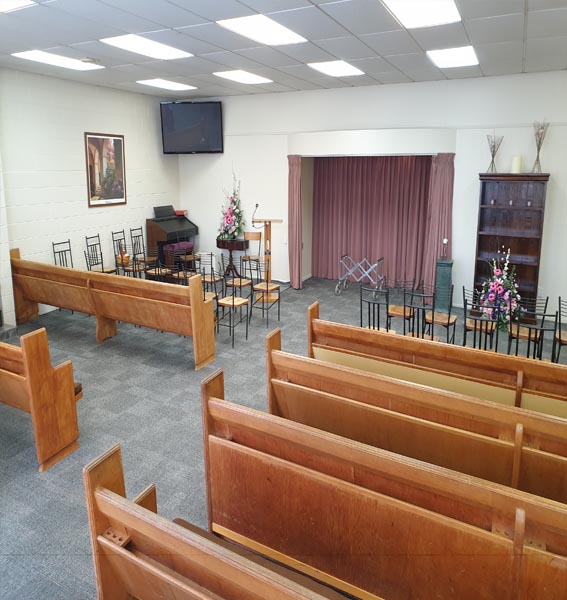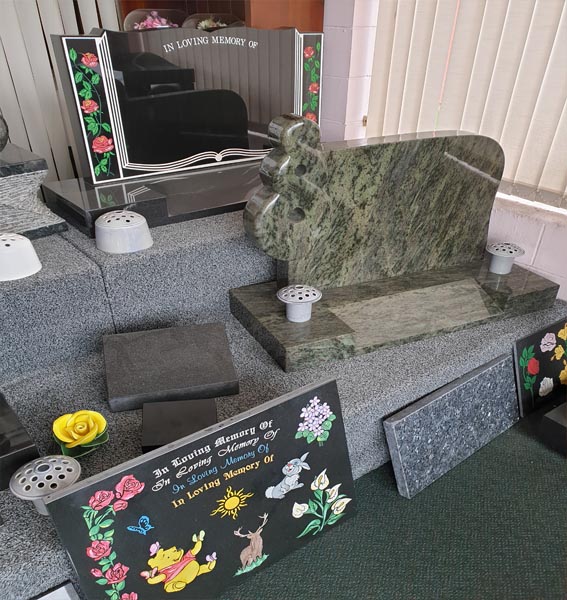 Cremation or Burial
Often people have a preference over cremation or burial and this is one of the first important decisions to make as there is a variety of forms required that must be completed and they differ for each. There are numerous cemeteries within and outside the South Waikato area. Although there is no Crematorium in the South Waikato District, cremations are carried out at any one of the Crematoriums based mainly Taupo, Hamilton, Rotorua or Tauranga or further afield if the need is required. The practice of Private Cremation following the service of a loved one has become the most common choice for families and unless otherwise requested, we would normally use the Taupo Crematorium which offers some advantage in cost and efficiency.

Ashes are generally returned to our premises within 24-48 hours of the Cremation. We are here to assist you as to suitable arrangements for their final disposition and to help you carry out your wishes.
Preparation of the Deceased Embalming
Embalming is an art and scientific process based upon medical procedures which disinfects and preserves the deceased body making it safe for those coming into contact with it. Embalming presents the deceased in the best way possible and allows people to view and say goodbye to a person. At SWFS our embalming is carried out to the highest level of skill and professionalism and we ensure that our practice is current with the standards set by the New Zealand Embalmers Association (NZEA). At all times we clearly ensure that your loved one is treated with respect and dignity
The Interview
When there is a death in the family it is an incredibly stressful time. You are coping with your own grief as well as the many things to be done. As your Funeral Director we are there to assist you right through this process. We arrange to meet with the executors and family members at either a family home or at our premises in Tokoroa in one of our interview rooms where we spend some time together arranging and confirming suitable timings for the service; compiling information for the registering of the death and wording for your funeral newspaper notice. Arranging aspects of a funeral service for your loved one, working through the options and choices available to you regarding the casket, flowers, officiants, service sheet, book of remembrance, video recording and livestreaming, viewing, catering and venues. Time is what we most value; the time to listen, assist, and guide. Our team are extremely passionate, professional and committed to caring for not only your loved ones, but to you their families who are also in need of compassion, direction and good advice. We can do this together.
Death Certificate
The registering of a death is a legal requirement as we will as your funeral directors organise this for you. There is a fee payable to the government for issuing a death certificate, which will be included in the funeral account

When applying for funeral grants and in the estate administration a death certificate is also necessary.
News Paper Notices
While not compulsory, the placing of a newspaper notice and/or an online obituary is a way of advising the deceased's friends and community, of the death as well as providing information as to where and when the funeral service will be held and we will help you write this and arrange for publication in papers of your choice. An example is shown below.

Bloggs, Joseph (Joe) , Peacefully at home surrounded by family on the 1st January 2020; In his 100th year. Dearly loved husband for 80 years to Mildred,. Loved Dad and father in law to Bruce and Freda, Rangi and Wai. Loved Poppa and Koro to Billy and Auria, and great Koro to all the grandchildren. "A special man now at peace."

Donations to St Johns Ambulance would be appreciated and may be left at the service

A service for Joe will be held at the South Waikato Funeral Services Chapel, Commerce street Tokoroa on Monday 4th January at 1p.m. follow3ed by interment at the Old Putaruru Cemetery.

South Waikato Funeral Services Ltd. FDANZ P.O. Box 459, Tokoroa
Caskets
We have a wide range of caskets for you to choose from, a selection of which are in our showroom and others can be ordered from catalogue or via online products. They come in a variety of styles, materials, finishes and prices. Our industry depends on prompt and reliable delivery and products made to the highest standards and a leading supplier to the funeral industry we use is Western Caskets Limited. Today, personalising the casket is a becoming a popular option. This could be in the colour or by having pictures and graphics on the casket. As your Funeral Director we will discuss and assist you with your choice.
Clothes, Dressing and Viewing
Before any viewing is possible, it is advisable to select a casket and provide us with clothing you would like your loved one to wear beforehand. You are welcome to help dress or add any personal touches and we will contact and arrange a time after we have completed our preparations. It is our experience that viewing is very helpful in coming to terms with your loss. This can take place at our premises or in your own home.

Viewing at our premises is preferred between 8:30 am - 5:00 pm Monday to Friday. Please phone us so we can ensure we allocate the viewing room for your family. If you wish to view outside these hours please make an appointment by phoning us on 07 886 5160.
Flowers
We can arrange for flowers for the funeral on your behalf from a professional florist. Flowers are an expression of love and provide colour and a centre peace to portray the personality of your loved one. You can choose from a casket spray; a natural spray of flowers; a small posy or a single rose. Some families like to include native ferns, vegetable or other goods to personalise the floral tribute.
Music
Music in some form has become an important part of funeral services, ranging from organ music to CDs, DVDs and on occasions live music. Many churches and venues offer sound systems but in the event they do not there is an option for the SWFS sound system to be set up or we can engage the services of a professional sounds person on your behalf. The professional will also be able to offer live-streaming and recording of the service.
Slideshows and Photo Presentations
We can create a slideshow on a DVD to be played through a TV screen or projector. These create a visual life story of your loved one and is a meaningful way to share memories, highlights and passions of their life. It can be shown before and during the funeral service, accompanied by music you have personally chosen. All you have to do is to provide us with your photographs either digitally or deliver the original photographs for scanning, and we will create a slideshow for the funeral whether it is in our chapel or at another venue.
Livestreaming
We can arrange for Livestreaming at our chapel, Churches and other venues to enable your family and friends 'live' access to the service by way of an invitation link. This is emailed to those who have registered and with a single click viewing the service is simple. Please discuss options with your funeral director.
Video Recording
We can arrange for an audio visual recording of the funeral service so that relatives and friends who are unable to be there on the day can be a part of the service at a later date either by connecting via a web link or by a DVD. This also enables future generations to view in years to come.
Book of Remembrance
A Book of Remembrance allows for a permanent record of the signatures and messages from those who attend the service in a bound book. We have a good selection of differing books for you to make a personal choice that reflects your loved one.
Photo Album
A Photo Album incorporates all the details outlined in the book of remembrance, plus we will include all the photographs from the slideshow that were shown during the service. The Life Story and other tributes can also be included giving you a permanent record, bound in a specially designed hard covered book. Additional copies can be ordered.
Service Sheets
Service Sheets are used to tell a story and are an important keepsake memento that every person attending the service can take with them. Service Sheets come in a wide variety of styles and designs and include photographs of the deceased selected by the family and often themed to capture some aspects of their life. Often names of those participating and the music may be noted, or readings, prayers or hymns to be sung on the day. These are so important to us that we use a Graphic Designer to ensure that every service sheet is unique and personalised. We will advise you as to how soon we need photographs and details so that they are printed in time for the funeral service.
The Service
Funeral services are about the deceased, you, their family and friends, those they leave behind. It is a time for you to honour their memory, a time to say goodbye the way you want, a time to celebrate their life and a time for seeking some closure. A service enables us to share memories, and to support one another as family and friends often together with those in the community who have also known the person who has died. Reflecting on their life and enjoying their favourite music, singing, sharing photographic memories of special times, where it is okay to cry, laugh, and smile as you remember and it is important to include traditions, rituals, cultural beliefs, and those special requirements that are important to your family.

The days leading up to the service give family the opportunity to be part of the planning, formulating the outline and contents of the service, choosing the music, readings, compiling a life story often with the assistance of the officiant / celebrant and writing individual tributes to say on the day. This is such a special time for family, planning, supporting, remembering and reminiscing, whilst creating new memories as you reflect on the past. Tell us what type of funeral you want and we will do everything in our power to deliver it.
The Memorial Service
In some instances families are required to hold a Memorial Service some weeks after their loved ones have passed. This could be to accommodate family who are overseas, pandemics like Covid.19 in 2020 where our international boarders were closed to all travel for a number of months. It is an important service to have and the flow is very similar to a funeral service except there would be a small ashes urn/casket or on some occasions none at all. This is replaced with a photograph, trinkets and items that reflect and are symbolic of deceased.
The Venue - Where can we have a service?
Where you have a funeral is over to you. You might want a private family service at home, in your garden, at your church, a crematorium chapel, rest home, hospital chapel, RSA, local hall, at a place special to you, one of our local venues or a larger venue depending on whether you wish to have a big celebration. Alternatively you can also come to our Chapel which has the capacity to seat 100 people. It is fully equipped with a sound system, speakers and screen to enjoy a slideshow / photo presentation. Refreshments can be arranged on your behalf and toilet facilities are available.
Officiant
Clergy or Funeral Celebrants often lead funeral services. Whether you wish to use your local minister, priest, or one of our celebrants, we will make contact with someone who can assist you with a fitting funeral service in memory of or in celebration of your loved one's life. Our officiants are professional and experienced people and we know that you will be well looked after.
Catering
A reception following the funeral service is a great opportunity to carry on sharing memories in a relaxed and friendly way. We can arrange, on your behalf, light refreshments through one of our catering companies.
The Memorial (Headstones & Plaques)
A memorial for a loved one not only marks their final place of rest, it marks a place to visit that is dedicated to them, a unique design that serves as a tribute to and reflects on their life. The type of memorial will depend on whether it is for burial or cremation, the cemetery in which the memorial is to be installed, the type of material, granite or bronze, the ability to be able to add to the memorial at a later stage, the addition of graphics, pictures and yes, the cost. Please contact us for a no-obligation quote or for any information you may require.
Thank You Cards
Bereavement or thank you cards can be printed for you to send out after the funeral. These can feature the photo from the service sheets. These cards are a personal and nice way of acknowledging the support of family and friends following a death.
Ashes Urns
Urns come in a range and variety of different styles, materials, finishes and sizes. Your preference is your choice and we are here to assist you when making that decision.
Unveilings and Interring of Ashes
If you would like assistance as to how to arrange for the interment of ashes, please give us a call and we will point you in the right direction.
Would you like to Pre-Plan Your Funeral?
Thinking about our own funeral will make most of us somewhat uneasy but more and more are choosing to have their say and pre-plan a funeral knowing that the funeral reflects what they want. It is also about peace of mind and minimising the stress on our families at what is a sad and often a stressful time.
Pre-paid Funerals
Paying for all or part of a funeral in advance is done for a number of reasons, to be organised, as a legal way of reducing assets for Asset Testing Purposes as to qualify for the Residential Care Subsidy but for most it is for peace of mind. One less thing for the family to worry about. At SWFS we offer the FDANZ Funeral Trust. This plan is owned by the Funeral Directors Association of New Zealand (FDANZ) whereby your money is held in trust until the time of your death. At this time the amount paid into the Funeral Trust plus any interest accrued, less any applicable fees are used to pay towards your funeral expenses. We do have alternative Funeral prepaid options if the Trust is not suitable for your circumstances. Please give us a call for further information or to set up a time to talk directly with you.
Bereavement Support
We will contact you following the funeral to see if we can assist you with any additional services such as thank you cards, arranging a memorial, ashes interments, unveilings, reading material or just to offer a friendly ear. The lead up to a funeral can be a very busy time and often it is only when the service is over and family and friends have returned to normal life that the loss of a loved one is truly felt. This service is in the form of after funeral care and support to assist you with any matters that you are unsure of and require some guidance. However, if you wish to talk sooner please feel free to contact us.
Repatriation Overseas
To repatriate or bring home a deceased person back to New Zealand from overseas, or from New Zealand to another country, please contact us for assistance. The funeral director who is attending to the deceased will make all arrangement for transferring the body. In addition to normal processes there are other requirement to comply with regulations of the sending and receiving countries, as well as the airline that will carry the deceased. Procedures and regulations vary between counties so compliance does take time. When repatriating ashes you are permitted to take them on board an aircraft as a carry-on item, but you must have the correct documentation to be able to do this. Mail or courier, sending them from one funeral director to another is the recommended method. Give us a call at SWFS for assistance or for more information.